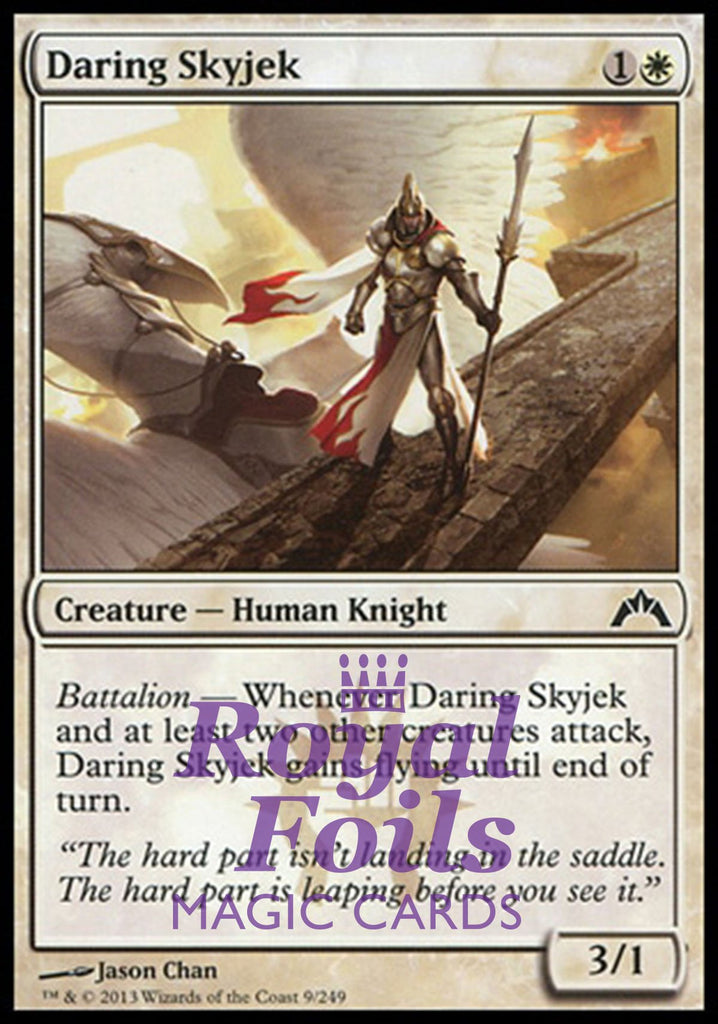 **4x FOIL Daring Skyjek** GTC MTG Gatecrash Common MINT white
We currently have 2 in stock.
---
Welcome to Royal Foils Magic Cards

This listing is for the number of cards listed in the title description. 1x means you will receive one card. 2x means you will receive 2 cards, 3x means 3 cards, etc. 
Card Ratings
MINT or MT:   Card(s) are factory fresh with no notable flaws. 9/10+
NM or Near Mint:  Card(s) are most likely unplayed, but may have minor blemishes, press-lines or light scratches seen at certain angles.
VF or Very Fine:  Card(s) may have noticeable blemishes, press-lines, scratches and/or card may be noticeably off-center. May also have some minor creasing or dings.
FINE or PL Played:  Card(s) may have heavy wear, blemishes, press-lines, scratches, printed off-center and have some creases/dings. We do not sell torn or crumpled cards.
Shipping
Cards are shipped out the next business day after payment is received.
---
Share this Product
---
More from this collection
Liquid error (layout/theme line 356): Could not find asset snippets/limitsify.liquid